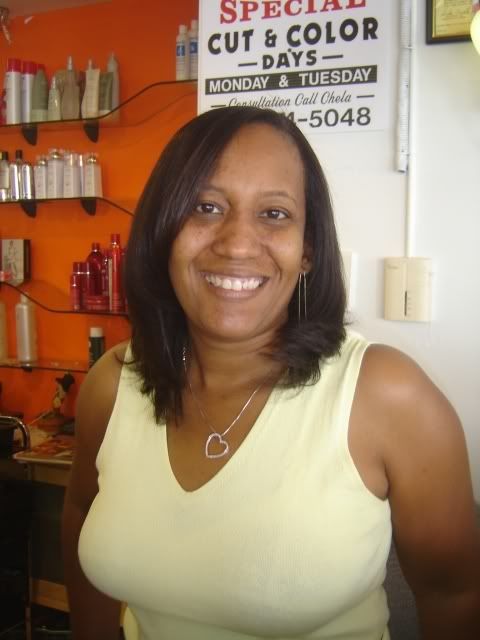 One of the reasons I started this blog is because I wanted to profile women who I think are exceptional. I am hoping to do this every week (but truth-be-told Dominican_Enigma's schedule does get little nuts so it may be every other week or every other month lol).
The woman I want to profile is owner of my favorite salon Reaction. Her name is Chela Polanco. One of the reasons I wanted to profile her is I know that many of us women, go to the salons and beyond getting our hair done we never get to know the person behind our "do." Chela's story truly fascinated me.
Chela came to the United States at sixteen years old from the Dominican Republic. Upon her arrival, she knew she wanted a better life for herself and for her
family than the Bronx apt they lived in. She quickly learned English and after high school enrolled in NYC's Baruch College-graduating with a Bachelors in Computer Science. Upon graduating, she became a computer programmer working in upstate New York.
However, at this time Chela had gotten married and was working very far from her home in the Bronx, and the money as a programmer wasn't that great. She quit the computer programmer job hoping to start her own restaurant or software company. (Don't you love an ambitious woman?) But alas, both plans fell through. Then her sister who was a hairdresser told her that she needed to sell her fledgling salon and Chela quickly took over. She quickly changed everything in the salon around, from the decorum, adding flat screen televisions and a sectional couch to removing the cheap damaging products and adding proven quality ones. If you go to Chela's salon, you will notice all of her products are pretty high-end. You see Chela says that she doesn't want to just "do" your hair; she wants to make sure your hair is 100% healthy so that you can come back and bring your friends. When Chela does something, she makes sure she does it right.
Chela says that one misconception that many people have is that the blow-dryer can damage the hair. She claims that is false. She believes that the blow-dryer combined with the right products can lead to much healthier and longer hair.
One of the reasons I love Chela's salon is because many of my friends do not use a relaxer on their hair and I've seen many other Dominican salons refuse to work on them. Not so at Chela's salon. She welcomes everyone, and they all leave-incredibly satisfied.
Chela Polanco -my Person of the Week.