I hope your thanksgiving was amazing. Mine was great. I went to see my Grandmother, and my whole family was there. My aunt (from the south) made the best stuffing and homemade sweet potato pies ever. I was in heaven. Yum Yum! Now let's talk beauty.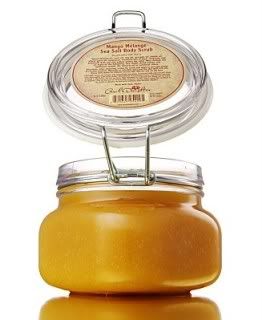 In my last post, I introduced you to my new obsession which is my Carol's Daughter Mango Melange Sea Salt Body Scrub. A few months ago I had heard that my other obsession Beyonce, loved Carol's daughter Mango's products so you know I had to get my hands on this. (Did I ever tell you that Beyonce's makeup artist's assistant said B and I look alike? I think that was my best day ever! Although I don't see any resemblance at all, lol). Anyway, B knows what she's talking about. This scrub is magnificent. First of all the scent is heavenly fruity like a mix of delish mango with coconut, yummy! It reminds me of the islands, and when I open it, thoughts of my happy summers in the Dominican Republic come back to me. But not only that, it also thoroughly exfoliates my skin, without being harsh, and it contains some serious nourishing oils like almond and jojoba to really moisturize my skin. By the time I've rinsed this off, not only does my skin smell like delicious island fruit but it's so soft and smooth, I don't even need to use any lotion when I'm done.

www.carol's daughter.com


FYI: For all you Carol's Daughter Fans, Lisa Price founder of Carol's Daughter will be on hand at the Harlem Flagship Store tomorrow November 29 from 2-5 and would love to meet her customers. Also, the finale of Modelville –the show where women are competing to win a contract with Carol's Daughter is airing their finale on the Tyra Banks Show December 1.
How was your Thanksgiving?
Did you eat like Crazy?
My diet officially starts today.
Big hugs,
DE