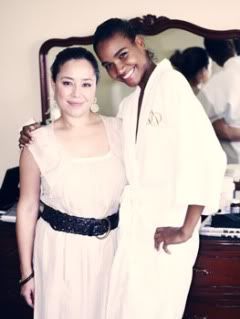 2 Beautiful Dominicanas Patricia & Arlenis
This is my 400th post guys and I'm super excited. I want to thank everyone who has been reading me for so long. I really appreciate it. But today, we have a great post along with an amazing giveaway. We're interviewing the PR beauty director of Lancome today, who also happens to be a fellow Dominicana. Patricia Reynoso is absolutely amazing. She was the beauty director at Ladies Home Journal, and is the co-author of famed dermatologist Dr. Fredric Brandt's book "
Age-Less
skincare guide." I'm also absolutely obsessed with her blog
www.latintale.com
which chronicles her family's life. I love it! So without further ado, let's meet Patricia Reynoso!
1)What's your beauty regimen morning/night?
I'm fanatical about my skin, maybe even obsessed. I blame it on being a former beauty editor and knowing so much about ingredients and how the skin functions. I look at my skin, which is pretty decent considering I'm pushing 40, but I always want it to be better and better. Right now I'm seeing a dermatologist so I'm on a few prescriptions, like a benzoyl peroxide cleanser and Retin-A Micro. I use those at night, along with
Génifique Eye
and a salicylic acid moisturizer by our sister brand La Roche Posay. In the morning I cleanse with our
Pure Focus gel cleanser
and top with a vitamin C serum that protects from the sun and helps fade dark spots. My philosophy is to do the essentials—cleansing and moisturizing and protecting from the sun—but doing it with ingredients that give you the most bang for your buck.
2)What's your makeup routine?
Can I just say how happy makeup makes me? Just wanted say that! Ok, so I have a few makeup essentials that are so essential that I think I might die without them. Concealer tops that list because it's like an eraser that makes everything nice and neat, allowing me to move onto the fun stuff. It's the first thing I put on. I play around with different formulas but right now I'm loving
Lancôme's Maquicomplet
after our interns told me that makeup artists always request it. I dot it under my eyes, on my eyelids, around my nose and on any blemishes or dark spots. Sometimes I blend it with a brush but most days I use my fingers and walk around getting ready for work while doing so.
I typically wear tinted moisturizer , topped by loose powder. (I need powder; I'm so shiny!) Next, I grab one of my hundreds of fluffy brushes and sweep bronzer pretty much all over. I then take a smaller brush and dot my cheeks with pinkish blush. I stop there and do the rest on the bus. I know that's tacky but the bus is pretty empty and it takes me just a few minutes. I have a Ziploc bag with a neutral shadow palette, our waterproof eyeliner in either brown or navy and any of our amazing mascaras, usually
Ôscillation
, already in my purse. Most days I do a metallic brown shadow on my lids and I rim my entire eye with eyeliner. By the time I get to mascara I'm anxious to listen to Marc Anthony on my iPod so I do that really quickly. I do my lips at work, after my coffee!
3)What do you think has led to your success?
I was lucky enough to have started as a fashion editor at WWD but the rest of my career is a result of my passion for the industry. Meaning that yes, I was in a good place, but I would've have lasted very long without my fascination and love for what I was doing. I was also really curious about other departments and if I thought it was for me, I would ask those folks if they wouldn't mind sitting with me and telling me what they did. I also remained very humble and gracious, knowing that my immigrant parents were limited and I wasn't about to throw away my good fortune.
4)What quotes or motto do you live by?
I don't know if it's a quote, but I believe in treating everyone how I'd like to be treated. Not only because it's the right thing to do, but because you just never know whose help you're going to need in the future. That's been proven to me over and over again!
5)What beauty advice can you give us?
Take care of your skin! A tan is just your skin telling you that it's been hurt and it's the cause of all the terrible things you see in the mirror. Don't sleep with makeup on, especially mascara—yuck! Everyone, I don't care how gorgeous you are, looks better with a little makeup on so don't be afraid to play. And finally, be happy. A smile is always beautiful.
WE LOVE YOU PATRICIA. THANKS FOR AGREEING TO BE PART OF THE INTERVIEW.
UPDATE: WE HAVE CHANGED 2 ITEMS IN THE GIVEAWAY. PLEASE TAKE NOTE:
FIVE LUCKY READERS WILL GET THE SET OF 4 LANCOME PRODUCTS HERE.


Le Style Waterproof Long Lasting Liner in Black $23.50

GENIFIQUE EYE $59.00

COLOR FEVER LIP GLOSS IN ENGAGING $25.00

LANCOME OSCILLATION $34.00

JUST SEND AN E-MAIL TO BEAUTYLOGICBLOG@YAHOO.COM WITH THE SUBJECT BEING "DE, I NEED SOME LANCOME IN MY LIFE." THE 5 WINNERS GETS ANNOUNCED ON WED.